Yoga Poses & Exercices to Balance Your Pelvic Floor
Regular exercise to connect the brain to the pelvic muscles will relieve menstrual pain, prevent pelvic discomfort and keep the genital area healthy. With their help, you can reduce the risk of injury during childbirth and recover faster. Training these muscles is one way to prevent them from wearing out after menopause.  They support the visceral organs and are very important in recovering from inflammatory conditions of the small intestine and colon.
After giving birth or as you get older, you may notice that your pelvic muscles are not as strong. These are the muscles that support your bladder, bowel and uterus. When they contract, the organs are lifted and the openings to the vagina, anus and urethra tighten. When the muscles are relaxed, urine and feces can be eliminated from the body.
The pelvic muscles play an important role in sexual function. Keeping a balance between strength and flexibility in these muscles can reduce pain experienced during sex and increase the ability to feel pleasure. A good blood flow in the pelvic region is very important for fertility and reproductive health. During pregnancy, the pelvic muscles support the baby and also help with childbirth.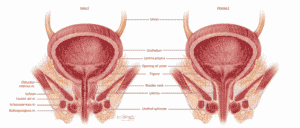 Pregnancy and childbirth can cause the muscles to weaken, but there are other factors that can affect the pelvic floor, such as age, obesity, heavy lifting and chronic coughing. An imbalance in the pelvic muscles, weakness or tension, can cause incontinence or pain during sex. They are a part of the "core muscles" and they should be considered in any exercise routine.
In this article, we will look at some exercises and yoga poses to do just that – balance your pelvic floor muscles, improve blood circulation, promote movement and relax the pelvic girdle. The Bound Angle Pose (Baddha Konasana), Legs-up-the-wall Pose (Viparita Karani), Seated Twist Pose (Ardha Matsyendrasana) and other asanas are very beneficial. 
Let's look at some postures and exercises in more detail.